Rivah Bounce LLC
P.O. Box 58 St. Stephens Ch. VA 23148
Phone: (804) 445-5197 or (804) 443-2505
E-mail: rental@rivahbouncellc.com
The castle bounce house is 15 feet long by 15 feet wide. The maximum number of riders that should play in the JUMP UNIT at one time is as follows:
Children 8

& Under

Children 9

To 12

Older Teens

Adults

10

6 - 8

4 - 5

4
Rivah Bounce LLC has two slides, the Commander and Rivah Splash Down Wet Slide. The Commander is 23 feet, 6 inches in height, 31 feet, 4 inches in length and 17 feet, 6 inches wide. Participants can enter the slide on the left and climb the impressive 23 plus feet, and enjoy the fast and furious ride down the right side to the well cushioned bottom. With a right-side exit, players are free to run around to the entrance and ride over and over. Only one rider shall slide down the slide at a time.
The Rivah Splash Down slide is 20 feet in height, 31 feet 2 inches in length and 21 feet 6 inches wide. Participants take to the entrance and climb up one side and then slide down one of the two slides. This slide allows for two riders at one time, one on each lane.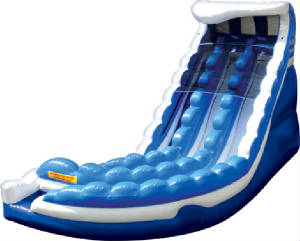 RIVAH SPLASH DOWN

To maintain the highest quality standards for our products.
To provide the best customer service possible.
To provide safe fun for everyone!
Rivah Bounce LLC has 1 Castle Combo which is a bounce house, slide, and basketball hoop all in one. This product is 18 feet by 15 feet.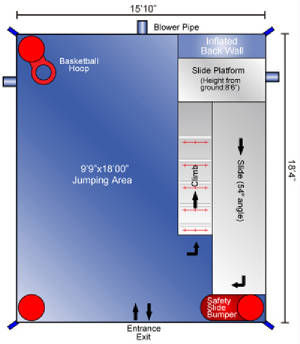 Rivah Bounce LLC has 1 obstacle course The Batman Challenge. Fun for all ages as you push through challenging activities.